Here's What Your Work From Home Setup is Missing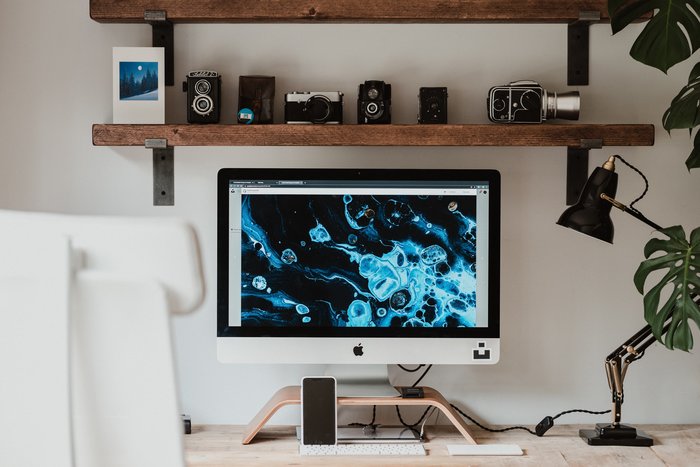 As of right now, many of us have been rocking the work from home life for an entire year. Who ever would have thought? As a result, many of us have also been forced to consider various different home office ideas, in light of needing to create at-home workstations that will provide us with both comfort and productivity.

Whether you plan to keep working at home after this is all over or return to the office, having a dedicated workstation as part of your home office design plan is never a bad idea. In fact, some studies suggest that working from home actually might be increasing our productivity levels — which is a definite plus!

If you're looking to spice up your home office or give it some much-needed accessories, our team at Grapefruit can help. In this blog, we've listed some sweet, locally-sourced items that your work from home setup might be missing.

Neon Desk Light

One of our most popular items right now is our neon desk light from Amped&Co. Made from hand-crafted glass tubes filled with neon gas, these lamps look like they're straight out of an 80s diner — making them the perfect accessory for those looking to add a neon glow or vaporwave vibes to their workspace. While these also look great in a bar cart, breakfast nook or living room, they're a perfect addition to a desk space or office — especially for those who enjoy working at night!

Our neon desk lights come in three different designs: Unicorn, Cherry and — our favourite — "Yass Queen" (the positive reinforcement we all need).

Wall Art
Looking to add some art to your workspace retreat? Great call! Adding artwork to your walls is one of the best ways to compliment your space's overall aesthetic and truly make it your own.

Grapefruit is proud to host a range of wall art from some of our favourite Canadian artists and brands, including MIVOart, Wendy Tancock and Main and Local.

Aroma Diffusers

Aroma diffusers offer several health benefits that can enhance your at-home work space. Diffusing natural oils is said to help improve memory, cognitive function and increase focus — all of which are great to include in a space where staying productive is key. They're also ideal for helping reduce stress and anxiety and relaxing the body and mind.

At Grapefruit, we've got quality aroma diffusers in-store from Stadler Form. Featured in 4 colours — black, white, red and green — these diffusers are powered by ultrasonic technology and we think they'll make a perfect addition to your at-home work area.

Mugs

No workday is really complete without a mug that can hold enough coffee to get you through the morning. Just because you might be skipping the commute right now doesn't negate the need for a great caffeine buzz.
We've also got some uniquely Canadian mugs from our friends at Main and Local. These will also make a great gift for your coffee-loving friend or family member.

Comfy Clothes

Loungewear is all the rage right now — and we're totally here for it.

Be sure to check out Grapefruit's current lineup of comfy at-home workwear, including crewneck sweatshirts from Casual Friday and lounge pants from Wood Underwear (to name a few). Our quality-brand loungewear isn't just built to last — it's also here to help you quarantine in style.

Shop Grapefruit Today

Got some great home office ideas and looking to snag some items that'll help you add your own personal flair to your workspace? Our team at Grapefruit is pleased to announce that in light of the mandatory stay-at-home order finally being lifted in Toronto, our shop in the Village has finally opened its doors. We look forward to seeing you at our store once again!

Can't make it to the store? No worries — our online shop is always open for business!