Style in The Village - Part 3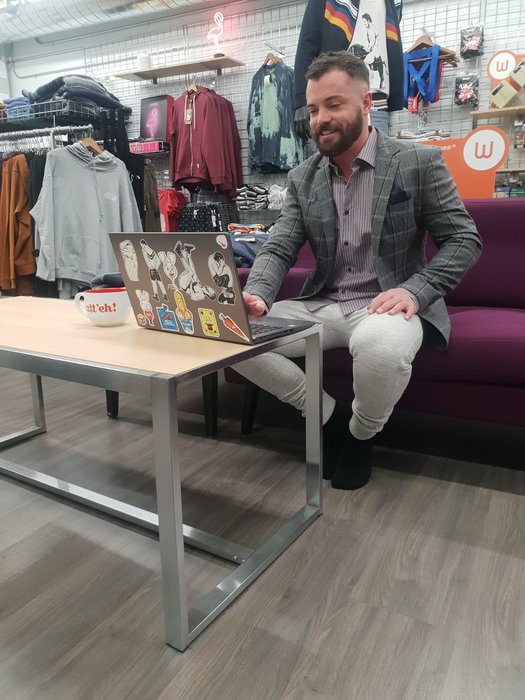 In this week's Style in the Village blog post, we get comfy on the couch with Robbie Kudla - although you may know him as Pupkuddles on Insta! Looking divine as always Robbie shows us the zoom meeting attire we are all too familiar with by now, business up top, chill on the bottom.
What does the Village mean to you?
The village means so much to me. I was kicked out when I came out, and the village gave me the resources and contacts I needed to be independent and truly be myself for the first time in my life.
What is your happiest / craziest memory of the Village?
It's hard to pick just one! The village has been a constant source of entertainment in my life, many friends live here and so many happy moments happened here. One of the happiest probably has to be getting my first apartment and feeling like I had a future to look forward to.
How have you been adjusting the pandemic?
Trying to stay active, check in on friends and learn new hobbies. I've always loved to cook and rarely have the time so it's been nice to get back to that.
Shop Robbie's Look at shop.iamgrapefruit.ca
Hörst Slim Fit Wool Mix Blazer - $325
Hörst Striped Dress Shirt - $80
Blend Sweatpants - $39
Latt'eh mug - $19
In this series we feature individuals who live/work in The Village. Our neighbours. Our friends. Every individual here has some special connection to The Village and Toronto. While we dress these individuals in outfits from our latest collection they talk to us about their relationship with The Village and Toronto.
Interested in being one of our Style in the Village models? Drop us an email about why we should feature you on our blog at [email protected]